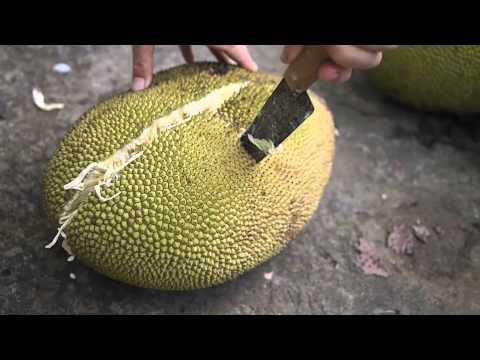 Jack-fruit season has started.  I have both hard and soft jack-fruit.  The trees are very high and it is not so easy to climb them and get down the jack-fruit.  Luckily, the trees serve the fruit when it is ready.  When the hard jack-fruit falls it is usually intact.  The soft jack-fruit, on the other hand, becomes a mush.  A way to get to the soft jack-fruit is to climb the tree and then lower the fruit down on a rope.
My favorite is the hard jack-fruit.  Though it is a bit more difficult to get into.  Since jack-fruit is very sticky I usually dig into it with plastic gloves and a special knife that I only use for jack-fruit.  One can also use oil and rub the hands in oil before opening the fruit.
I am not the only one enjoying the jack-fruit.  As you will see, there is someone else who eats, and eats, until there is nothing left…  Have a look.
Also,  surprise help arrives from two friends, Olamide and Tyler.
Related posts: