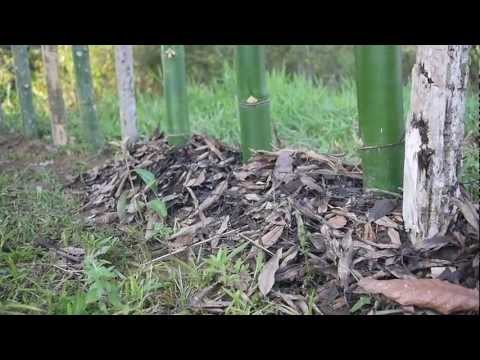 Horses and donkeys are really nice.  But there is a reason why they should not be kept in a garden.
Since I do not have a good fence or gate at my property I have horses and donkeys walking around, helping themselves to new banana trees, cacau trees etc…  I also have people happily riding by.  And so, I have decided to start by building a fence and a gate.
I got some wood for the gate and I plan to build a fence that will hopefully also become a source of food.  I would like to grow some climbers on it, like passion fruit and perhaps some sponges (to use as dish-washing sponges later on).  In the mean time, I plan to plant some quick growing legumes and some tomatoes and cucumbers.  I just hope the horses will let me do this.  We will see.
I got some old paper from a grocery store.  When I buy my fruit I ask to get it in paper boxes.  I will wet it and put it over the existing grass under the fence.  This is so that I will not have to dig up the grass.  Instead I will suppress it and use it as nutrients for my up-coming crops.  Then, I will mix some earth with some of the horse and donkey spillings and some dry material (bamboo leaves, banana leaves, etc…).  On top of it I will put some mulch and inside I will put the seeds (legumes, tomatoes, cucumbers, passion fruit, sponge-fruit).  It is the best I can some up with at this time.  I have never done this before, and so I do not know what the result will be.  We will see what will happen.
I also plan on putting in some extra bamboo as a fence.  Bamboo will quickly deteriorate, and become food for my other fence crops.  But in the mean time it will look like a fence.  The bamboo comes from bamboo that is old and could not be used for construction, but is still good enough to work as a pole for a few months.  This is good, because it will clean up my bamboo groves, so that they will get more light to grow.
Related posts: