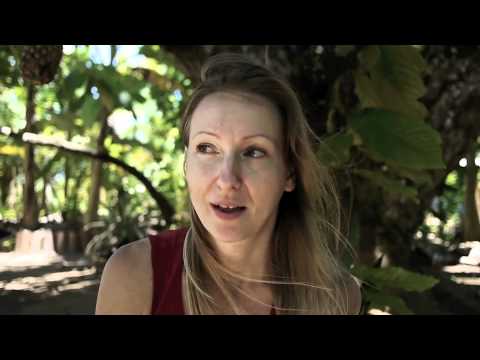 A couple of weeks ago I showed you how my friend Tyler did exercises for his eyes in order to improve his vision.   This got me thinking that vision training might be the only alternative for many who have very limited incomes.   A neighbor of mine, Ninha, a tiny but very cheerful lady of 65 with long black hair and a skip in her step,  had very poor vision and no financial resources to go to an eye doctor or buy glasses.  And so she decided to start doing the vision exercises.  Within a few weeks her vision improved dramatically.  She was so happy about it that she managed to save up enough money to take the bus into town and buy me a present.  She was so happy that she could give it to me.  I show it to you in the video.
At this time some of my favorite fruits are coming into season.  One of them is mangosteen, the queen of fruits.  I have planted a couple of mangosteen trees and should have some fruit within a couple of years.
Some day I hope to be able to grow the king of fruits as well, durian.  But it is not popular here and so it is difficult to find seeds.  Also, it takes many years before it starts bearing fruit.  But I suppose that would be worth the wait.
Another fruit that is in season now is custard apple.  The type I like the best is "fruta do conde".  It is very sweet when ripe.
A third fruit that is in season is "Ingá".
Related posts: